Landscape Design, Maintenance, Tree Care, Property Management, Winter Services, & More
As a leading landscaping company serving businesses and homeowners throughout the Southern Vermont region, Wise Oak, Inc. is your top source for trustworthy answers for all your landscaping-related questions. If you have a question about the landscaping process, any of our other services, our company, or anything else, read this FAQ page for answers! If your question is not answered below, please reach out to us at 802-824-5540 or through our contact page.
What services does Wise Oak offer?
Wise Oak offers a wide range of services, from the very general to the very specific. Some examples of general services include:
Some more specific, situation services Wise Oak offers include:
Learn More About Wise Oak's Long-Term Landscaping & Property Management Solutions In Southern Vermont
Some of our FAQs
Click The Question To Learn More
When is the best time of year for a landscape installation?
Thinking about upgrading your landscape? The best time to do so is in the fall and the spring. Summer and winter are generally not ideal for new landscape installations, as they are outside the growing season. When it comes to planting new trees, shrubs, and perennials, the months of April and May are some of the best times to do so. Always avoid planting in the winter, as freezing temperatures can make the ground too cold for new plants, likely killing them. A close second to spring-time planting is doing it in the fall. However, if you decide to undertake a fall landscaping project, give your new plants a better chance of surviving the window by following these tips:
Mulching — Insulate the roots with a few inches of mulch on top to help the plant survive with fluctuating temperatures.
Watering — Water frequently in the fall to help your plants survive the cold, dry winter months.
Pruning — Remove dead, broken, and weak branches in the fall to reduce the risk of damage to the tree or other plant when winter comes.
Wise Oak provides homeowners and businesses in Southern Vermont with all the support they need for new landscape installations and for keeping their garden, trees, and overall landscapes in tip-top condition all year round. Contact us now to schedule a landscape design consultation!
We're committed to taking care of all issues in a timely, cost-effective manner. Every project we and our partners work on will be conducted to the best of our abilities, every time, with total customer satisfaction always being our goal. No job is too big or too small for us.
How often should I cut my grass?
The basic rule of cutting grass is to never cut more than ⅓ of the leaf blade off. Cutting it too short can lead to an unhealthy lawn. Proper lawn care in the fall, including mowing, watering, and fertilizing, will help it survive the winter in excellent health, resisting disease and controlling weeds in the coming spring. Most grass should be mowed to between 2 and 2.5 inches high in the spring and fall, and 3 to 4 inches high in the summer. In the summer, the high heat can make cutting more traumatic for the grass, so cutting less often keeps the grass in a healthier condition. Taller grass is able to make more carbohydrates for itself, and there is also a correspondence between height of blades and depth of roots. Grass with deeper roots is better able to withstand stress, such as the hot summer sun. For complete outdoor grounds maintenance services in Vermont, trust Wise Oak for everything from spring clean-ups and mowing to shrub care and irrigation system management.
How much should I water my trees?
The variability of summer weather here in Vermont means you have to be prepared to modify your watering strategy based on the conditions, to ensure that your trees stay in good condition. Older trees will typically be fine with standard watering practices, however, new trees and shrubs are prone to drying out, so soaking them at least eight to ten inches deep each time you water them is a good idea. You can test this by using a metal stake. If the stake slides down into the soil without resistance, that's enough water; if there is resistance, add more water.
Does Wise Oak do tree removal, install fences, decking, or irrigation systems?
Yes! When required, we are capable of all your landscape installation and maintenance needs. Wise Oak, Inc. specializes in landscaping, tree care, property management, winter services, and more. However, when it comes to projects that exceed our specializations — such as plumbing or electrical projects — we partner with local companies to provide you the specialized handyman services your property needs to get it repaired and back in tip-top shape. We do work for both commercial and residential properties.
We are able to achieve top-of-line results due to our:
Hands-on customer service
Focus on long-term solutions
Exclusive use of high-quality building materials
Experienced, highly professional staff
Passion for improving and maintaining your property
How can I protect my landscape from pests?
It's important to be proactive with keeping wildlife at bay, so you can grow a beautiful landscape this season. The first line of defense against larger animals is a fence. Yet, while a fence may help keep out rabbits and deer, woodchucks can climb over or dig under fences. Repellent is therefore a more practical option for such types of animals.
When it comes to insects, there are many ways to deter their activity around your property, including:
Using rubber mulch

Growing insect-repellant plants

Removing rotten and fallen wood promptly

Trim your trees and shrubs regularly

Don't leave water stagnant

Regular lawn mowing
All of these solutions can be implemented through landscape maintenance services with Wise Oak! Get a free quote for year-round landscaping support in Vermont today!
What services does Wise Oak, Inc. offer during the winter months?
Many of our clients choose to continue getting landscaping services from us during the winter months, having us do jobs such as removing fallen leaves, conducting snow removal, installing holiday lights, and more. You can read more about our winter care services here.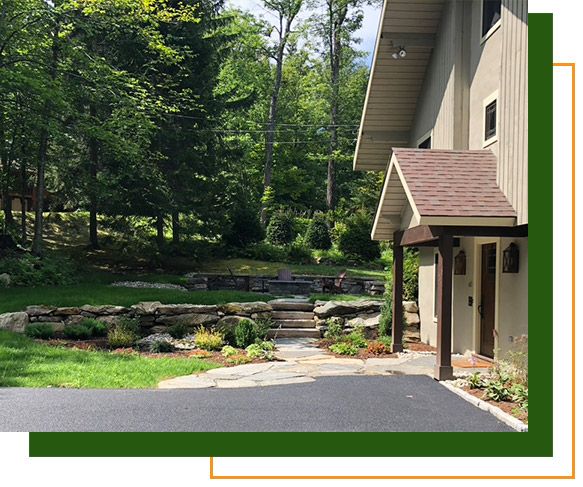 Why should I choose Wise Oak, Inc.?
Wise Oak, Inc. is dedicated to maintaining and improving our clients' landscape and overall environments through our comprehensive landscaping (and also homeowner) services.
We work with our clients to develop programs that not only meet the needs of their landscape and home, but also address their long-term property use goals as well.
We have been designing and installing patios, gardens, hardscapes, and much more for more than 15 years.
We achieve superior results as property managers by:
Developing and maintaining client relationships for the long-term

Delivering superior customer service

Maintaining our properties as if they were our own

Conducting all services with extreme professionalism
How do I get started with Wise Oak, Inc.?
Please contact us today to get a free project quote! When you need comprehensive landscaping and other property management services, if you're in Southern Vermont you can't do better than Wise Oak, Inc.! When you request a consultation, we reach out to you quickly and get started as soon as possible on your desired project. Wise Oak, Inc. takes care of everything for you. Trust our experienced, professional staff to provide comprehensive, fast service for your home or business! If you want guaranteed quality results, hiring Wise Oak for all your property's needs is a good short- and long-term decision. Let us take care of your property for you; all you have to do is call, then watch it flourish!