Winter Services
Snow Management & Winter Maintenance Services in Southern Vermont
Get Snow & Ice Management for Your Property
Wise Oak, Inc.'s winter snow team is here to ensure that you and your family can enjoy all that Vermont has to offer. Our snow removal service is designed for your safety and convenience. Crews are radio dispatched and remain in communication to stay on top of demanding snow levels. With average annual snowfall in Vermont around 90 inches and an impressive average of 180 inches for Stratton, it is important that you have a reliable service provider all winter long to keep your roads and pathways safe and clear. Get started with the Wise Oak snow management program today!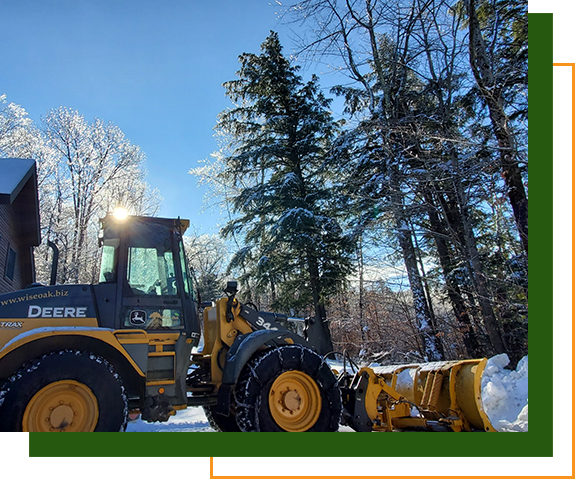 Winter Services and Maintenance
Snowplowing

Shoveling
Sanding
Ice management
Hot tub, patio, and deck clearing
Commercial snow removal
Winter Care Services: An Overview
Wise Oak, Inc. offers the full spectrum of winter services — with a quick-response guarantee. We are committed to providing Southern Vermont residents and businesses with the winter-time support they need to get in and out of their building all winter long, no matter the severity of the snow. Wise Oak keeps your driveways, pathways, and landscape usable and open through custom-tailored snow removal and snow plowing services for your business and home. We provide deicing services, salting, sanding, and more!
While the first snow of the season is always beautiful, transforming your property into a white, still environment, it can also cause damage and create a whole lot of inconvenience. That's why Wise Oak's property management services are year-round. No matter the conditions, we are here to help your property remain safe and beautiful in each and every season of the year.
FAQ
Have a question about our winter services? Feel free to reach out to us and ask — we'll be happy to help. Here are some answers to frequently asked questions:
"Do I need winter services?"
As Southern Vermont gets more than 90 inches of snow on average each winter, you most likely will need winter services to keep your property open and safe from time to time. Speak with a member of the Wise Oak team to get help determining if you need snow and ice management services this winter season.
"When should I begin planning for winter snow removal?"
Everyone begins planning the process at different times. We always recommend you sort out your winter snow and ice management plan as soon as possible, so we have ample time to work out all the specific needs of your organization or home. It's always good to start by asking lots of questions, that way you know what you're signing up for and what to expect from your partner — ensuring that there are no surprises down the road.
"What does snow tolerance mean?"
Depending on the type of property you need winter services for, various degrees of "snow tolerance" will need to be specified. Snow tolerance is how much snow accumulation you specify for us to come and remove it. For example, the snow tolerance for a medical facility may be ¼ of an inch, while other sites may not be impacted unless the snow reaches 2 inches or more. However, most customers want to have snow cleared at 1 inch or less of snow.
"What type of equipment will you use on my property?
There are a wide variety of different types of snow removal equipment out there. We use the equipment that is best for your site, depending on the size, complexity, snow and ice conditions, and other factors.
"Do you fix any damages caused during the winter?"
Winter snow and ice can cause a lot of damage to your property. Some repairs and clean-up services are not possible until after the snow has melted and the ground has begun to thaw. Wise Oak, Inc. provides property management services, tree care, landscaping, and more to residents and businesses all around Southern Vermont.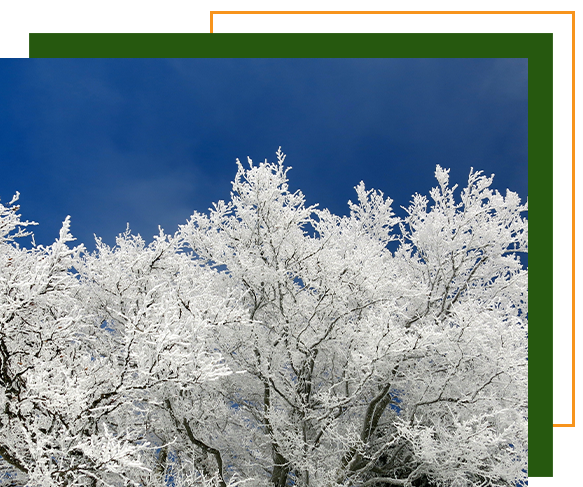 Southern Vermont's #1 Winter Tree Care Company
Looking out your window, you may think that nothing can be done with your trees with their bare branches on a frosty morning. However, even during the deepest parts of winter, your trees may need some professional care. In particular after a big snowstorm, you may need branches or limbs removed, trimming and pruning services, and the clearing of broken branches from your roadway. Wise Oak provides you the comprehensive winter services you need to keep your trees healthy and your property safe and beautiful all year round.
Holiday Services in Southern Vermont
Do you want a Christmas tree this holiday season and don't want to go through the work of getting it from the forest and into your living room? Leave it to us to purchase and install your tree for you so all you have to do is enjoy it when it arrives.
Holiday Lighting Installation
Wise Oak takes the stress and danger out of holiday decorating at your home here in Vermont — offering custom holiday lighting packages for your home, business, or community. Jobs of variable sizes can be taken on after learning your specific wants and needs.
We want to take the time to truly understand what you are looking for and what magical display we can make happen for you. So relax, and enjoy the holidays!
Southern Vermont's Best Holiday Services & Snow Removal Company
Get the support you need for your property this winter by hiring Wise Oak, Inc. to take care of all your winter needs. When it comes to snow and ice management, trust our experienced, professional staff to take care of it fast and comprehensively, so your property remains safe and clean without you having to do any backbreaking work.
If you want guaranteed quality results, hiring Wise Oak for all your winter service needs is a good short- and long-term decision. Let us take care of your property for you this winter!